Accommodation
Lounges
We have 3 lounges, Oak, Beech and Cedar. You can enjoy the companionship of friends in the comfortable seating, and join in activities held in here if you wish.
The garden lounge is to the rear of Meadowfields. This large and airy room overlooks the lovely fenced garden, always kept neat and pretty by our gardening team. Here residents can watch television, listen to music, or sit and chat with friends.
Furniture is kept up to date, and is selected to be ideal for our residents to use.
Bedrooms
All bedrooms at Meadowfields are designed with the comfort of residents in mind. They have en-suite toilets and showers. Beds are designed specifically for older people with mobility problems. Meadowfields is split over two floors with Oak situated on the first floor. It is predominately for those who need residential care and has 32 en-suite rooms.
The second floor is split into two areas, Cedar and Beech. This floor has 33 en-suite rooms.
There is also plenty of wardrobe and cupboard space for personal belongings. Each room has a chair a large mirror and dressing table to keep personal items and ornaments. Or, for instance, to sit at to write a letter. Every bedroom also has a television.
Dining room
Our dining room is an elegant room overlooking the grounds. All meals are taken here, unless our residents choose to eat in their own rooms. Residents are allocated their own table, though seating arrangements can be changed, for instance if you want to eat with friends.
Gardens
Our enclosed garden, is a safe and secure place to enjoy the fresh air, and has been designed to perfectly suit people with dementia.
Our residents often go for a little stroll to admire the many colourful flowers and shrubs, with benches and seats dotted about to have a rest on the way.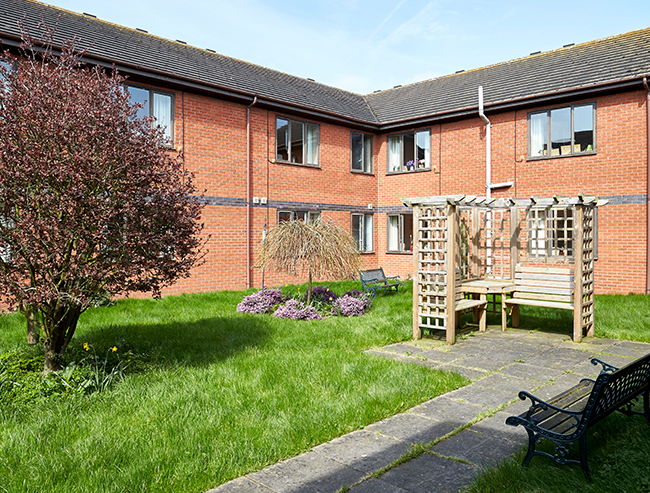 Games Room